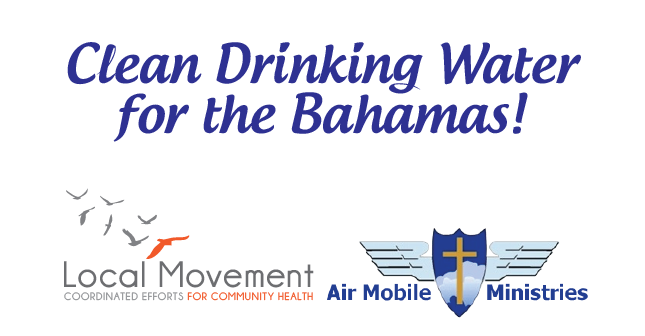 Bahamas Dorian Relief Effort
Supporting Clean, Drinkable Water in the Bahamas

Director, Beth McKenzie
Brevard County, FL was spared the main effects of hurricane Dorian in early September, 2019. Local families, businesses, and individuals feel such compassion for those who have lost literally everything in the Bahamas. As it takes them months to years to fully rebuild, we seek ways to support their search, rescue, survive, and rebuild efforts.
We found and support the Air Mobile Rescuer water purification units, manufactured, delivered, and maintained by Joe Hurston and the Hurston family – founders and operators of Air Mobile Ministries.
The people of the Bahamas are in need of many things, the most crucial of which is clean, drinkable water. From hard to reach areas where search, rescue, cleanup, and rebuilding will be going on for months, to large areas of congregation where families are looking for lost members and teams of government workers will work alongside missionaries and others trying to set up base areas to function from, the Air Mobile Rescuer units can save and sustain lives.
Air Mobile Rescuer Water Purification Units are being deployed to the Bahamas for ongoing rescue efforts now. Each unit produces 25 gallons of pure, drinkable water each hour from available dirty water sources and weighs only 20 lbs. Each day, each unit provides clean, life saving water for up to 500 people in hard to reach areas!
Each unit costs $2,500 and 10 have already been flown in as of Saturday, Sept. 7th. Working with the Bahamian Air Traffic Control and the Bahmian Government (BEMA; their version of our FEMA), units are being placed with rescue and support teams on the ground but additional units are needed.
Air Mobile was founded in 1978 and has delivered water purification units to 40 countries dealing with natural disaster, famine, civil unrest and war over the years.
We are seeking financial support from families, individuals and businesses who are looking for a way to provide, real, life-changing support to the Bahamas that we know will affect thousands of those in need, in an ongoing capacity.
If you, your family, a group, or a business would like to help support this effort, call Beth McKenzie at 1-800-577-0302 xt 805 to discuss setting up any size campaign to help.
All funds (100%) donated for the Bahamas Relief effort will go towards this effort. Yes, donations are tax-deductible with a receipt from Local Movement, Inc. upon request. (Keep in mind you must consult your tax consultant to determine if you qualify for a write-off of donated funds; we make no claims to know how you file or how donations do or do not benefit any donator.)
Checks may be made out and mailed to:
Local Movement, Inc.
1216 Banana River Drive
Indian Harbour Bch, FL 32937
You may also drop off cash or checks to any of the Hibiscus Dental offices in Brevard (who are collecting and participating in the relief efforts):
Hibiscus Dental (3 offices)
Merritt Island: 125 E. Merritt Causeway, Ste. 127, Merritt Island, FL 32952
Satellite Beach: 1024 Hwy A1A, Ste. 108, Satellite Beach, FL 32937
Viera: 7185 Murrell Road, Suite 102, Viera, FL 32940
The great part about this effort is that Joe Hurston (the founder of Air Mobile Ministries) is updating his blog and making some radio and video appearances along the way – which we will be updating on the Local Movement facebook page as they come in.
Join Us! Follow us and join the conversation for transparency, action, and results on facebook at:
https://www.facebook.com/localmovement.org/
If you are looking for a transparent way to support the Bahamas (personally and/or for your business to promote) – this is it!
To the Bahamian people; we see you, we care, we support you.
EFFORT SOLICITED AND MANAGED BY LOCAL MOVEMENT, INC. | LOCAL MOVEMENT, INC. 501(C)3 IS REGISTERED #CH48302 TO SOLICIT CONTRIBUTIONS WITH THE FLORIDA DEPARTMENT OF AGRICULTURE AND CONSUMER SERVICES. A COPY OF THE OFFICIAL REGISTRATION AND FINANCIAL INFORMATION MAY BE OBTAINED FROM THE DIVISION OF CONSUMER SERVICES BY CALLING 1-800-435-7352 TOLL-FREE WITHIN THE STATE OR GO TO WWW.FRESHFROMFLORIDA.COM. REGISTRATION DOES NOT IMPLY ENDORSEMENT, APPROVAL, OR RECOMMENDATION BY THE STATE.